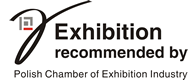 Ministry of Agriculture and Rural Development

Polagra Gastro and Invest Hotel


18.07.2017
Modern, economical, ergonomic - in this way we can determine the cooling equipment that will be presented in the Innovation Gallery.
27.06.2017
Join to our special programme of promotion of new products!
08.06.2017
DOUBLE "YES" FOR INNOVATION
More news
---

POLAGRA GASTRO & INVEST HOTEL
Summary of Polagra Gastro and Invest Hotel Fairs 2016:
Polish Culinary Cup 2016
Master Class Show 2016
.