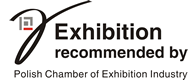 Ministry of Agriculture and Rural Development

Our exhibitors in 2017:


30.10.2017
We are presenting you with the latest interactive issue of Poznań Fair Magazine "Calendar of trade fair in 2018". It is absolutely unique publication onto polish market! We invite you to click!
03.10.2017
Summary of Polagra Fair 2017.
26.09.2017
In this way we can summarize the first two days of the Polagra Gastro / Invest Hotel - photo gallery.
More news
---

POLAGRA GASTRO & INVEST HOTEL
Summary of Polagra Gastro and Invest Hotel Fairs 2016:
Polish Culinary Cup 2016
Master Class Show 2016
.