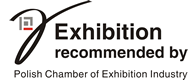 Ministry of Agriculture and Rural Development

29.03.2017
Join the POLAGRA GASTRO and INVEST HOTEL exhibitors!
28.02.2017
That is how POLAGRA GASTRO and INVEST HOTEL Fairs are organized
16.12.2016
We kindly invite you to visit Poznań International Fair! Here you will find business contacts, novelties and the chance to develop your passions. In the latest issue of Poznan Fair Magazine "Exhibition calendar 2017" we present trade fair events, organized by the International Fair for almost all industries.
More news
---

POLAGRA GASTRO & INVEST HOTEL
Summary of Polagra Gastro and Invest Hotel Fairs 2016:
Polish Culinary Cup 2016
Master Class Show 2016
.