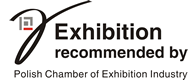 Our exhibitors in 2017:


27.06.2018
We present You the latest issue of Poznań Fair Magazine. We invite You to read both its paper and online version. In this issue we present the distinguished guests who visited Poznań International Fair in the recent months, provide reports on the spectacular fair and events, and present Arena Hall, which joined the group of objects managed by the Poznań International Fair. And moreover…
19.03.2018
Join us exhibitor of Polagra Gatsro/Invest Hotel Fair and take adventage of this!
16.03.2018
Reserved the exhibition space in promotion price.
More news
---

POLAGRA GASTRO & INVEST HOTEL
Summary of Polagra Gastro and Invest Hotel Fairs 2016:
Polish Culinary Cup 2016
Master Class Show 2016
.