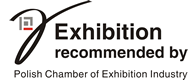 Ministry of Agriculture and Rural Development

Polagra Gastro and Invest Hotel


05.09.2017
We invite you to get acquainted with the list of exhibitors of POLAGRA GATSRO / INVEST HOTEL Fairs.
01.09.2017
Who will take part in the grand finale?
14.08.2017
The winners of Gold Medal competition 2017.
More news
---

POLAGRA GASTRO & INVEST HOTEL
Summary of Polagra Gastro and Invest Hotel Fairs 2016:
Polish Culinary Cup 2016
Master Class Show 2016
.